| | |
| --- | --- |
| Over 6522+ Trusted Members. | |
| | |
MarriagePaper.com - India's Only Newspaper Like Matrimonial Ad Service On Internet
We circulate your matrimonial advertisement via MarriagePaper.com/SMS/Email. Since 2008. Over 6522+ trusted advertisers !!
We are not Match Makers !!

We are just a platform you need, to find your partner for marriage.
Paid Advertisements validity Till Marriage

Free Advertisements validity 1year

Try It Now Fees/Offers
BOX AD - Do you receive many calls daily and feel irritated to answer all of them? YOU DO NOT NEED TO GET DISTURBED.

Upgrade your advertisement to BOX AD and your mobile number will not be available publicly instead your Email Address will remain open for communicatoin.

Enjoy a PEACE OF MIND SERIVCE

BASIC AD - Our analysis says there is a 76.2% chance that your life partner is currently reading your advertisement and there is a higher chance that you would not know who was reading because he/she cannot view your contact details.

Why delay ?! Simply upgrade your advertisement to BASIC AD and let your ad circulate along with your contact details.

STOCK AD - Basically its FREE !! Ad will circulate but without your contact details for 1 year. So you need to wait for your luck if anyone ever tries to contact you.

We would never force you to upgrade your membership, but time is more precious. Increase your chance of getting contacted early by upgrading !!
Contact Credit Point (CCP)
Did you come across a nice profile and wish to contact the advertiser but he/she is a STOCK Advertiser and you cannot see the contact details?
This is where you need CCP; To unlock the contact details of the Stock Advertiser to contact him/her.
You get CCP when you upgrade your Ad to Paid membership. You may even buy extra CCP only if you are an existing Paid Member
A simple step may connect you to your future life partner.
Proposal Service
Not sure whether your chosen match would be interested in your profile or not?
Try MarriagePaper Proposal Service.
You may send proposal to any advertiser, which he/she can Accept or Reject. So you'll get to know whether to proceed with the talking or not.
Yet-To-Marry Certification
We constantly give effort to ensure quality service.
So we keep on verifying advertisers who are yet to marry, so that you don't have to wait for your next available match.
As social responsibility, we offer BASIC AD service for FREE to advertisers who are:
Widow
No Condition
Educated but Economically Weak
Condition: Need an application recomended by any Local Gazetted Officer/Doctor/MLA/MP/Councillor/Panchayat Pradhan with stamp.
AD PROFILES
F16233
Groom, 39/5ft6
SHYAM STEEL , MEJIA , 30K.,
MBA (HR) MKTG., SOUKALIN,
MAKAR, DIVORCEE, KULIN ...
Read More+
J15194
Bride, 28/5ft3
PVT H.S. SCHOOL TCHER,
M.A(BENG)EDU(JU), B.ED,
KASHYAP, KANNYA, FAIR, SUSH ...
Read More+
L15133
Groom, 33/5ft6
PGDBM, Intl. Marketing
Executive, Partial Mangalik,
B+, Kashyap, Makar, Fa ...
Read More+
H14168
Groom, 33/5ft9
Kol Police(26 K), BA,
Modhukullya, Malik, We r 1
Bro, 1 sis, ...
Read More+
My Plan
Basic
Basic Plus
Box
Stock
Visitor
AD PLAN BENEFIT
You can view your match's Contact Details
Your match can view your Contact Details
Match's Plan
Basic
Basic Plus
Box
Stock
Its Simple
Mouse Over For Brief Details
OUR SERVICES
Contact Credit Point



Points used unit wise to Unlock Contact Details of Stock AD.
CCP can be obtained by Payment/Scheme Offers.
Proposal



Send Proposal to advertisers of your choice and know their view before proceeding.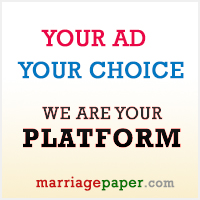 Trusted Since 2008




Feedback Us

Our Partners

Our Success

STATUTORY WARNING
Members/Viewers are advised to make thorough enquiries before acting upon any description displayed on the site. The site does not vouch or subscribe to the claims & representations made by the members regarding any particulars e.g., age, income, status, etc. of the bride/groom and his/her family.